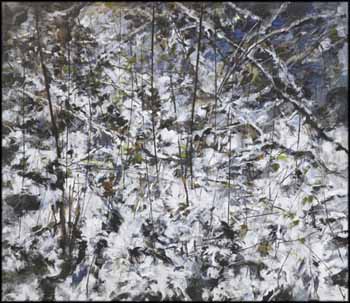 Lot # 009
Canadian Post~War & Contemporary Art Live auction

Gordon Appelbe Smith
BCSFA CGP CPE OC RCA 1919 - Canadian

Winter Forest D
acrylic on canvas
signed and on verso titled and dated 2004 on the gallery label
60 x 67 in 152.4 x 170.2cm

Provenance:
Equinox Gallery, Vancouver
Private Collection, Arizona

Literature:
Ian M. Thom and Andrew Hunter, Gordon Smith: The Act of Painting, Vancouver Art Gallery, 1997, page 1

Gordon Smith has always been interested in modernist developments, and in 1951 he traveled to San Francisco to attend the California School of Fine Arts to expand his horizons. Here he was exposed to American Abstract Expressionists such as Clyfford Still, Richard Diebenkorn and Elmer Bischoff (his painting instructor), and their work made him acutely aware of the importance of the gesture in painting. For one class, Bischoff directed his students to bring a big canvas and house paint; he then instructed them to put the canvas on the floor and just start painting, without preconception. Smith exclaimed, "It was a real shock treatment. We got into the act of painting.....at the time it was absolutely new and a revelation." This was a turning point for Smith, and from then on, the physical qualities of paint took on a greater importance.
But in spite of his inclinations towards the abstract, the landscape always kept seeping back in. Smith could not deny the magnetic pull that nature held for him. He stated, "I do not think of my paintings as devoid of subject matter. My feelings and themes are largely derived from nature, the sea, rocks, trees; the things I live with.....Painting should be a re-creation of an experience rather than an illustration of an experience." In fact, the forest is something that surrounds Smith in his studio and home on Vancouver's North Shore. For decades, he has drawn imagery from West Coast forests, from the Queen Charlotte Islands to his own back yard.
Works based on close-up views of the forest floor, trees, ponds and patterns of more delicate tree trunks and branches began to appear in the 1990s. Particularly exquisite are the winter scenes incorporating snow. Winter Forest D is an extraordinary large-scale work from this ongoing meditation. Smith effortlessly shifts from representation to abstraction, with the patches of snow creating a field that pulls to the front of the picture plane, while the pattern of criss-crossing branches brings us back to the reality of the scene. Smith builds his image by layering, and here fields of black and dark blue form the forest floor. As well as creating an all-over plane, the softly painted white, showing the underlayers, gives the illusion of the kind of snow that stands in fluffy soft clumps on top of organic matter. This overlay of white on the dark background causes the visual field to move in and out, creating a vibrant visual experience. The movements of short, expressionist brush-strokes add to the visual energy.
Characteristic of these winter works, what first seems to be a study in white and black on closer contemplation reveals a surface full of colour - from the more evident dark blues and mauves in the upper right to notes of green, orange, ochre and light blue throughout. Slender branches create a tracery of vertical, horizontal and diagonal lines, existing both as a pattern of marks and as a three-dimensional representation of nature. There is no impression of any directional light source - the light seems to emerge from the paint itself.
Smith's masterful handling of all these dimensions in this exceptional work - the refined brushwork, the fluid ease with which he moves between the abstract and representational, and the sheer sensual pleasure of the handling of the paint - is ample proof of his considerable reputation as one of Canada's most important modernists.


Estimate:
$40,000 ~ $60,000 CAD
Sold for:
$88,500 CAD (including Buyer's Premium)

All prices are in Canadian Dollars.
Although great care has been taken to ensure the accuracy of the information posted, errors and omissions may occur. All bids are subject to our Terms and Conditions of Business.