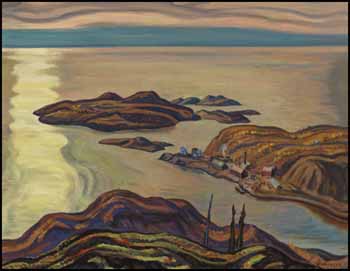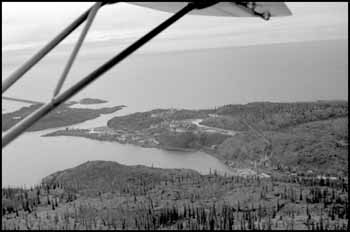 Lot # 157
Fall 2012 - 2nd Session Live auction

Alexander Young (A.Y.) Jackson
ALC CGP G7 OSA RCA RSA 1882 - 1974 Canadian

Radium Mine
oil on canvas
signed and on verso signed, titled and dated 1938
28 x 36 in 71.1 x 91.4cm

Provenance:
Acquired directly from the Artist by Gilbert A. LaBine
By descent within the LaBine family, Toronto

Literature:
Naomi Jackson Groves, A.Y.'s Canada, 1968, page 208, a related 1938 graphite drawing entitled The Harbour at Port Radium, Great Bear Lake 1938, reproduced page 211, plate 98
Wayne Larsen, A.Y. Jackson, The Life of a Landscape Painter, 2009, listed in the 1938 timeline page 238

Exhibited:
Ontario Society of Artists, 1939

A.Y. Jackson was an avid traveler who embraced adventure. He criss~crossed this great country throughout his life, traveling by boat, snowshoe, train and automobile, painting and sketching everywhere he went. He had a special love of the northern Canadian wilderness, and his first journey to the High Arctic by icebreaker with Dr. Frederick Banting made headlines in 1927. When the works produced from this trip proved remarkable, Banting and Jackson were invited by Canada's pre~eminent geologist Dr. James Abbott Mackintosh Bell to visit and sketch at Great Slave Lake in the Northwest Territories the following year. They ventured up by sternwheeler, visiting Fort Resolution and Yellowknife. Despite the intensely challenging conditions that faced them during an extraordinarily hot summer, Jackson's affection for the North deepened, and he yearned to explore the remote region beyond Yellowknife ~ the Barren Lands.
A decade later, his friend Gilbert Adelard LaBine, the brilliant prospector who had discovered pitchblende on the shores of Great Bear Lake, and the original owner of this work, invited Jackson up to his radium mine 440 kilometres north of Yellowknife. Both men shared a passion for adventure and the Canadian Arctic, and Jackson enthusiastically accepted. He immediately hopped a train west and boarded LaBine's company float plane in Edmonton. The small plane commuted regularly between remote LaBine Point and Edmonton, transporting miners and vital supplies. Although it was cramped and unglamorous, the artist was oblivious to the discomfort, relishing this fantastic opportunity to study the vast landscape below ~ a landscape that enthralled him. As soon as he arrived, he sketched the plane, and jotted down a quick note to his niece Naomi in Montreal: "It was a grand trip…..Saw Five Hundred Thousand Lakes this morning. You just couldn't keep looking at them, hour after hour. Great Bear is surrounded by big rocky hills, open patches of spruce in places, but no farm lands…..Expect to be around three weeks, but have to get out before freeze~up or stay another six weeks."
LaBine's operation was a rough and hardworking one, staffed with miners of diverse backgrounds. Jackson was left to himself to work as he pleased ~ which suited him perfectly ~ taking only the mine manager's dog with him for company. He wandered the rolling low hills, settling down for more detailed sketches on wood panel in oil, making annotated pencil drawings and gathering material for the works that would be painted later in the studio. South From Great Bear Lake, in the collection of the Art Gallery of Ontario, Radium Mine, Great Bear Lake, in the collection of the National Gallery of Canada, and this magnificent canvas, Radium Mine, are just three of the masterworks that resulted from the six weeks he spent in the camp.
In Radium Mine, Jackson's characteristic earthy palette captures the rugged natural beauty of the Canadian Arctic in the fall. Leaves are tinted red by the arrival of autumn, hastened in their turning by the end of the short northern summer. Jackson's treatment of the land employs a rich array of colours laid out in rolling lines and rippling patterns. The warm, earthy reds, velvety purples and pinks contrast with the brighter sage green areas of willow and sedge. The luminous area of reflection that Jackson has painted on the surface of Great Bear Lake echoes the lighter greens and creates a feeling of expansiveness from our vantage point on the hill above the harbour. A few sparse buildings depict the industry happening below.
Not only is Radium Mine one of Jackson's finest works, it is also historically significant. At its heart is the story of two exceptional Canadians ~ a gifted artist and a bold entrepreneur ~ linked by their thirst for adventure, imagination and love of their nation. Radium Mine reflects Canada's vastness, abundant natural resources, stunning scenery and the creativity, innovation and strength of its people.
Radium Mine has been in Gilbert LaBine's family since he acquired it from Jackson many years ago. This powerful painting came to Heffel through Mr. LaBine's granddaughter.


Estimate:
$200,000 ~ $300,000 CAD
Sold for:
$643,500 CAD (including Buyer's Premium)

All prices are in Canadian Dollars.
Although great care has been taken to ensure the accuracy of the information posted, errors and omissions may occur. All bids are subject to our Terms and Conditions of Business.