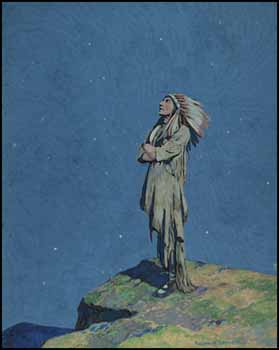 Lot # 174
Fall 2010 - 2nd Session Live auction

Frank Hans (Franz) Johnston
ARCA CSPWC G7 OSA 1888 - 1949 Canadian

Indian at Night
tempera on artist's board on masonite
signed Frank H. Johnston and dated 1926
37 7/8 x 30 in 96.2 x 76.2cm

Provenance:
Private Collection, Toronto
Private Collection, Vancouver

Literature:
Paul Rodrik and Frances-Anne Johnston, Rodrik / Johnston, Trent University, 1973, reproduced page 21
Roger Burford Mason, A Grand Eye for Glory, A Life of Franz Johnston, 1998, page 35

Exhibited:
Champlain College, Trent University, Peterborough, Rodrik / Johnston, March 27 - April 18, 1973

Frank Johnston left the Group of Seven in 1924 to pursue his own individual path, and Indian at Night is an outstanding example of Johnston's expression of individuality, revealing a penchant for paintings that had a romantic appeal to the imagination. Johnston did a number of stirring works involving native people, and in this large and impressive painting portrays the native man as noble, heroic and connected with nature. Johnston was a master of the medium of tempera – a mixture of colour pigment and egg white – and it was predominant in his oeuvre. As Roger Mason writes, his tempera paintings are "brilliant expositions of the insubstantial interplay of colour, light and pattern in the sky, foliage, rock and water." A well-known tempera masterwork by Johnston is A Northern Night, in the collection of the National Gallery of Canada, a stunning 1917 winter scene dominated by a sky full of stars and northern lights. In Indian at Night, Johnston also makes us conscious of the limitless sky – beyond the rock the native man is standing on, there is no reference point. Alone, he is at one with the wild, gazing at the immensity.


Estimate:
$50,000 ~ $70,000 CAD
Sold for:
$93,600 CAD (including Buyer's Premium)

All prices are in Canadian Dollars.
Although great care has been taken to ensure the accuracy of the information posted, errors and omissions may occur. All bids are subject to our Terms and Conditions of Business.