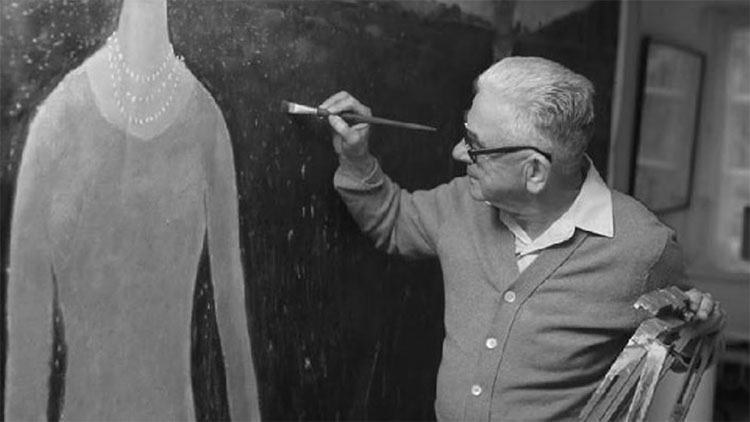 Jean Paul Lemieux
1904 - 1990
CC QMG RCA

Jean Paul Lemieux was born in 1904 in Quebec City. Lemieux and his family spent winters in Quebec City and summers at Kent House, above Montmorency Falls. In 1914 at Kent House, the young Lemieux met the American artist Charles Parnell; after many hours of observing Parnell, Lemieux began to sketch on his own.

In 1916 the Lemieux family moved to California; however, returned to Canada shortly after in 1917, settling in Montreal.

In 1926, Lemieux enrolled in l'Ecole des Beaux-Arts in Montreal and spent the next three years studying under Edwin Holgate and others. Lemieux took teaching positions beginning in 1934, first at the École des beaux-arts de Montréal, then in 1935 at the École du meuble. In 1937, he moved to Québec City and taught at the École des beaux-arts de Québec until his retirement in 1965.

Until 1940 Lemieux's paintings were inspired by a decorative and realistic style. During the period of 1940 - 1950, Lemieux's paintings can be characterized as humourous studies of the social environment of Quebec, an area which he had a great affinity for. Lemieux maintained distance from the volatile atmosphere of Montreal during the late 1940s; despite being cognisant of the manifestos Prisme d'Yeux and Refus Global, Lemieux remained indifferent to them.

The early to mid 1950s marked an important departure in Lemieux's style. Lemieux's works became simplified and he began experimenting with cubist structures. From 1956 onwards Lemieux produced paintings of solitary figures in simplistic, monochromatic landscapes, a style which he has become well known for.