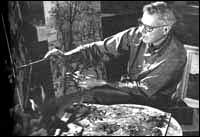 William Goodridge Roberts
1904 - 1974
CAS CGP CSGA CSPWC EGP OC OSA PY RCA

William Goodridge Roberts was born in Barbados in 1904 to Canadian parents and grew up in Europe and Fredericton, New Brunswick before moving to Montreal to pursue his career. Roberts had an extensive academic background, attending the École des beaux-arts in Montreal and the Art Students League in New York before becoming the first resident artist at Queen's University. In 1936, he moved to Montreal and founded the Roberts-Neumann School of Art with Ernst Neumann. Roberts joined the Eastern Group of Painters in 1938, which defined his status in Montreal's modernist milieu. The following year he exhibited at the New York World's Fair. From 1939 to 1949, he established a pattern of teaching at the Art Association of Montreal School of Art and Design, except for the period he spent working as a war artist for the Royal Canadian Air Force between 1943 and 1945. Roberts spent his summers painting in rural Quebec, primarily in the Laurentians and Outaouais regions as well as the Eastern Townships.

As a charter member of the Contemporary Arts Society, the Eastern Group and an elected member of both the Canadian Society of Painters in Water Colour and the Canadian Society of Graphic Artists, Roberts was a permanent fixture on the Canadian art scene. In 1952, Roberts achieved international recognition when his work was selected along with David Milne, Emily Carr and Alfred Pellan for Canada's first official presentation at the Venice Biennale. The following year, he furthered his experience abroad when he received a Canadian Government overseas fellowship to work in Paris.

After achieving national and international recognition, Roberts was selected as the first artist-in-residence at the University of New Brunswick in 1959, receiving an Honorary Doctor of Laws from them in 1960. Nine years later, Roberts was given a fine honour for a living artist, a retrospective exhibition by the National Gallery of Canada. Roberts is equally well known for his landscapes, portraits and still lifes, painted with strong expressionist brush-strokes and a poetic sensitivity.