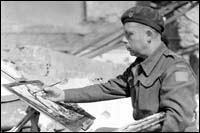 Charles Fraser Comfort
1900 - 1994
CGP CSGA CSPWC FRSA MSA OSA PRCA

Charles Fraser Comfort was born in 1900 in Edinburgh, Scotland and became known as a portraitist, muralist, watercolourist, and landscape painter. He immigrated to Canada in 1912, settling in Winnipeg, where he attended the Winnipeg School of Art and subsequently worked as a commercial artist for Brigden's Limited, an engraving firm. His first exhibitions were in 1922, including a two-man show at the Winnipeg Art Gallery. Additionally, he studied at the Art Students' League in New York in 1922 and 1923. In 1925 he moved to Toronto, and that same year his first large canvas, Prairie Road, was exhibited at the Ontario Society of Artists' show and was acquired by Hart House, University of Toronto.

Toronto's North American Life Building commissioned him to paint a mural in 1932; it was the first of many mural commissions he received throughout his career. In 1936 he took a studio next to that of Group of Seven artist A.Y. Jackson in the famed Studio Building, which led to the pair taking painting trips together. From 1935 to 1938, Comfort taught at the Ontario College of Art, and in 1938 he joined the teaching staff at the University of Toronto, where he remained for 25 years.

He became an official war artist from 1943 to 1946, and produced approximately 200 sketches and a number of large canvases, many of which are in the collection of the Canadian War Museum in Ottawa. He later wrote about his war-time experiences in his book Artist at War, and played a significant role in Canada's War Art Program.

Comfort was a founding member of the Federation of Canadian Artists, the Canadian Society of Graphic Art, the Canadian Society of Painters in Water Colour and the Canadian Group of Painters. He was Director of the National Gallery of Canada from 1960 to 1965 and President of the Royal Canadian Academy of Arts from 1957 to 1960. He was awarded the Order of Canada in 1972. Comfort died in 1994.