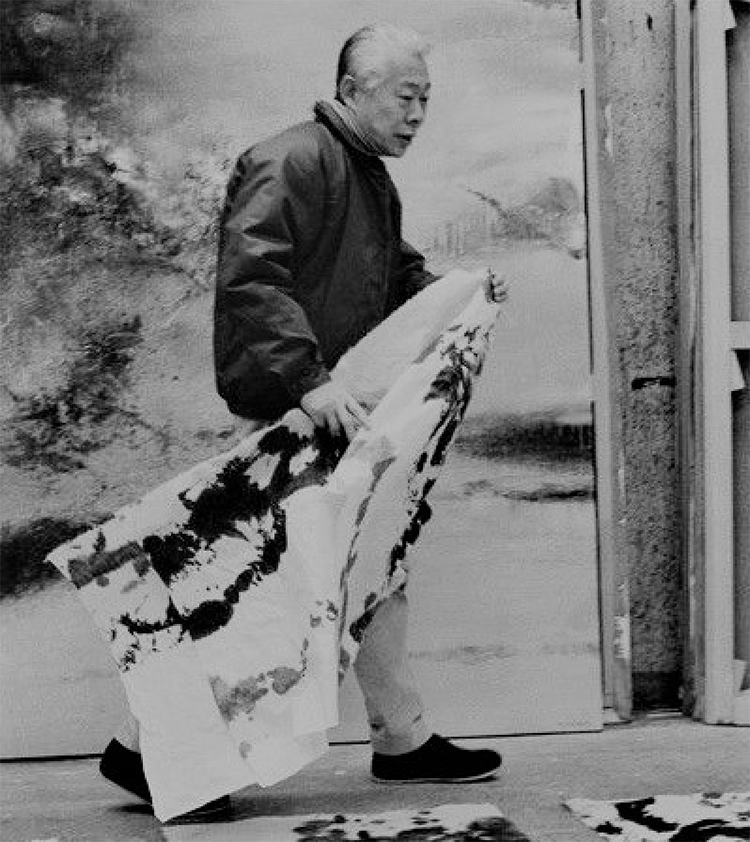 Born in Beijing in 1921, Zao Wou-Ki studied both western and traditional Chinese art at the School of Fine Arts of Hangzhou, later becoming a professor in the city of Hangzhou. In the early 1940s his work was exhibited in Chongjing and Shanghai, and around this time he also organized the first exhibition of modern Chinese painters at the National Historical Museum of Tchoung-King.

As a result of the political troubles and civil war that China was experiencing at the time, Zao Wou-Ki was forced to flee to Paris in 1948. There he absorbed international art in the city's museums, and studied lithography under Émile Othon-Friesz in 1949. His work is said to have been admired by artists such as Henri Michaux, Joan Miro, Fernand Léger and Picasso, and he formed lasting friendships with many artists living in Paris at the time, including Jean-Paul Riopelle, Pierre Soulages and Sam Francis.

While living in France, Zao Wou-Ki developed a style that was inspired by Chinese calligraphy and influenced by the work of Paul Klee. He became successful quite rapidly, and in addition to participating in an exhibition of Chinese painters in Paris, his work was shown at the Musée Cernuschi, the Salon de Mai and the Salons des Tuileries and d'Automne. Solo exhibitions of his work were held in Bern, Geneva and Paris.

Interested in expressing the unity of all things, from 1954 Zao Wou-Ki rejected figurative painting in favour of lyrical abstraction. Although he did not become a French citizen until 1964, Zao Wou-Ki represented France at the 40th International Exhibition at the Carnegie Institute of Pittsburgh in 1956, and at the Venice Bienniale in 1960. Other notable exhibitions took place at the Maeght Foundation in Saint-Paul-de-Vence and the San Franciso Museum of Art, as well as a retrospective show at the Montreal Museum of Fine Art and the Musee nationale des beaux-arts du Quebec in 1969.