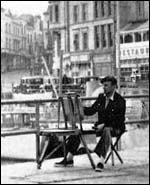 Edward Seago
1910 - 1974
RBA RWS

Edward Seago is considered to be one of Britain's finest 20th Century Impressionist painters.

Largely a self-taught artist aside from his studies under Bertram Priestman, Seago is well-known for his atmospheric landscape and maritime scenes. Throughout his career he traveled and painted extensively, and in the 1930s this interest in traveling inspired him to publish several illustrated books.

His work, with colour, texture, and light fusing together in a single harmonious blur, has often been compared to that of Turner.

Seago was a member of the Royal Society of British Artists and the Royal Watercolour Society, and his work was exhibited with the Royal Academy, the Royal Institute of Oil Painters, the Royal Western Academy, and the Paris Salons.